About us...
The Sudden Valley Amateur Radio Club (SVARC) is an ARRL-affliated club open to all ham radio operators. We are based in the Sudden Valley neighborhood of Bellingham, WA.
Our purpose is to encourage innovation in amateur radio, sharpen our radio skills, exchange ideas, and provide public service to our neighborhood. This includes providing assistance in CERT exercises, offering educational opportunities at safety fairs, and fostering goodwill within our community while having fun in the process!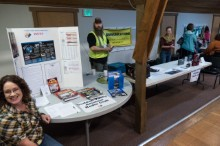 Club Meetings
The Sudden Valley Neighborhood Net meets on air every Sunday evening at 8 pm PST. The order of frequencies is:
147.520 MHz simplex (primary) / 147.540 MHz simplex (backup)
442.750 MHz +103.5 CTCSS tone (WA7SV repeater)
The SVARC invites you to join us at our monthly meeting at the South Whatcom Fire Authority (SWFA) the first Monday of every month at 6:30 pm PST. If you aren't a licensed HAM operator but you're thinking about getting licensed, this is a good place to start. Membership isn't required to attend, so come and visit!